Here are the latest books I've read!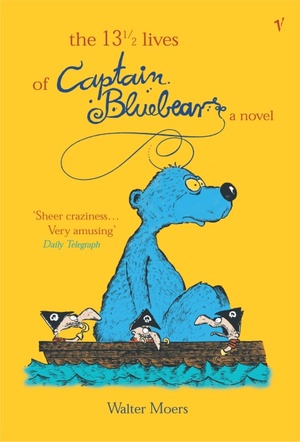 The 13½ Lives of Captain Bluebear by Walter Moers
Summary
"A bluebear has twenty-seven lives. I shall recount thirteen and a half of them in this book but keep quiet about the rest," says the narrator of Walter Moers's epic adventure. "What about the Minipirates? What about the Hobgoblins, the Spiderwitch, the Babbling Billows, the Troglotroll, the Mountain Maggot…Mine is a tale of mortal danger and eternal love, of hair's breadth, last-minute escapes." Welcome to the fantastic world of Zamonia, populated by all manner of extraordinary characters. It's a land of imaginative lunacy and supreme adventure, wicked satire and epic fantasy, all mixed together, turned on its head, and lavishly illustrated by the author.
Review
DNF. Not my thing. It's a lot of whimsy and fantastical adventures for the sake of the fantastical but without trajectory.
You might like this if you like: Abarat by Clive Barker
The Vegetarian Athlete's Cookbook by Anita Bean
Summary
The way we eat is changing. More and more of us are opting to eat fewer animal products or to cut them out entirely. Eating well to support a training regimen presents its own challenges, but as celebrated nutritionist Anita Bean shows, it is possible to eat delicious, healthy food and reach your athletic potential. Her new cookbook offers athletes–from weekend warriors to professionals–more than one hundred easy-to-prepare vegetarian and vegan recipes for breakfast, main meals, snacks, and more to allow the kind of performance every athlete aspires to, featuring gorgeous food photography and nutritional information for every recipe.
Review
The information and sources are great. I'm not impressed by the lack of variety in the recipes. Most seem to be just minor variations of each other. The author's Vegan Athlete's Cookbook is much stronger.
Vegan Paleo by Jenna Zoe
Summary
A collection of recipes tailored to suit anyone following a vegan Paleo approach to nutrition and wishing to create clean foods that the body will harness for sustenance, well-being, and vitality.
Review
The design and photos are lovely. I really like the author's viewpoint about being flexible with ingredients and focusing on enjoying food rather than strictly adhering to any particular diet or rules. I question some of the information (like the claim that oats contain gluten, and some typos in the nutritional information). While the recipes seem tasty, many have ingredients that aren't readily available for me or are fattier than I'm interested in.