Here are the latest books I've read!
Plant-Powered Protein by Nava Atlas
Summary
Everyone's favorite meaty dishes go vegan with delicious plant-based recipes featuring beefy crumbles, chicken-style strips, sausage, bacon, seafood, and more. Whether you're exploring vegan options for environmental, ethical, or health reasons, Nava Atlas's protein-focused recipes extend a warm welcome to the plant-powered protein revolution. Today's innovative meat alternatives prove you don't have to sacrifice meaty flavors to enjoy a plant-based diet. You'll discover new ways to prepare familiar favorites, from nostalgic classics to bold global fare with dishes are kinder to the earth and better for you.
Review
This cookbook delivers on tasty ways to make a variety of familiar dishes vegan using meat alternatives. The recipes seem accessible with convenient premade sauces/proteins but also provide DIY options for those components for cooks who prefer to make their own. The book includes an informative guide to commercial plant-based protein options. Nutrition information in the recipes would have been nice.
Plants Only Kitchen by Gaz Oakley
Summary
Plants-Only Kitchen offers an explosion of flavour, with more than 70 vegan recipes that work around your lifestyle. With symbols flagging whether recipes are high-protein, take less than 15 minutes, are gluten-free, one-pot or are suitable for meal prep, Plants-Only Kitchen explains how best to make a vegan diet work for you. No fuss, no fancy ingredients – just fantastic food using plants, only. Gaz Oakley (aka @avantgardevegan) has amassed well over a million followers on social media with his exciting vegan dishes, which emphasize that a plant-based diet doesn't mean missing out on taste. In Plants-Only Kitchen, Gaz's recipes are easier than ever before – following his step-by-step instructions, tips and advice, anyone can cook great vegan food.
Review
The tagline implies the recipes are protein-packed, but only a handful are, which is super disappointing. The photos and book design are lovely. A note for potential readers: there are frequently ingredients called for that I (from the USA) don't recognize and assume are UK-based.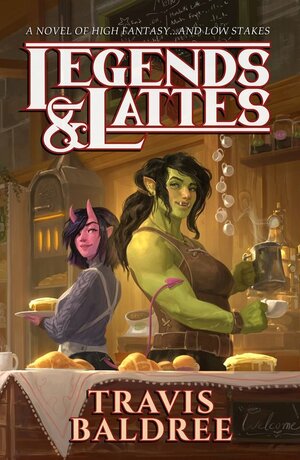 Legends & Lattes by Travis Baldree
Summary
Worn out after decades of packing steel and raising hell, Viv the orc barbarian cashes out of the warrior's life with one final score. A forgotten legend, a fabled artifact, and an unreasonable amount of hope lead her to the streets of Thune, where she plans to open the first coffee shop the city has ever seen.
However, her dreams of a fresh start pulling shots instead of swinging swords are hardly a sure bet. Old frenemies and Thune's shady underbelly may just upset her plans. To finally build something that will last, Viv will need some new partners and a different kind of resolve.
Review
A cute, cozy read. I adored Thimble and his enthusiasm for baking delicious treats. The coffee-shop family Viv built was heartwarming. I thought the writing was weak, often seeming plodding or mechanical. The romance happened with very little build-up and, while nice, didn't capture me.