Here are the latest books I've read!
Parable of the Talents by Octavia E. Butler
Summary
In 2032, Lauren Olamina has survived the destruction of her home and family, and realized her vision of a peaceful community in northern California based on her newly founded faith, Earthseed. The fledgling community provides refuge for outcasts facing persecution after the election of an ultra-conservative president who vows to "make America great again." In an increasingly divided and dangerous nation, Lauren's subversive colony–a minority religious faction led by a young black woman–becomes a target for President Jarret's reign of terror and oppression.Years later, Asha Vere reads the journals of a mother she never knew, Lauren Olamina. As she searches for answers about her own past, she also struggles to reconcile with the legacy of a mother caught between her duty to her chosen family and her calling to lead humankind into a better future.
Review
Terrifyingly prescient, from the popularization of Make America Great Again 18 years before Trump to a president who basically is Trump, including the weaponization of Christian extremists and a government that either condones or turns a blind eye to massive injustice, and the privatization of basically everything utterly destroying social structures, safety, the environment, etc. It's like politicians and rich people read her book and said, you know what, this sounds great and used it as a blueprint. Butler read the writing on the wall in 1998 and called it. As in the first book, Lauren's voice is riveting as she almost single-mindedly pursues her vision of Earthseed. I love how all of the characters' actions make sense, even if you don't agree with them. Lauren and these two books will stay with me forever, they're that unique.
You might like this if you like: The Handmaid's Tale by Margaret Atwood
The Very Secret Society of Irregular Witches by Sangu Mandanna
Summary
As one of the few witches in Britain, Mika Moon knows she has to hide her magic, keep her head down, and stay away from other witches so their powers don't mingle and draw attention. And as an orphan who lost her parents at a young age and was raised by strangers, she's used to being alone and she follows the rules…with one exception: an online account, where she posts videos "pretending" to be a witch. She thinks no one will take it seriously.
But someone does. An unexpected message arrives, begging her to travel to the remote and mysterious Nowhere House to teach three young witches how to control their magic. It breaks all of the rules, but Mika goes anyway, and is immediately tangled up in the lives and secrets of not only her three charges, but also an absent archaeologist, a retired actor, two long-suffering caretakers, and…Jamie. The handsome and prickly librarian of Nowhere House would do anything to protect the children, and as far as he's concerned, a stranger like Mika is a threat. An irritatingly appealing threat.
As Mika begins to find her place at Nowhere House, the thought of belonging somewhere begins to feel like a real possibility. But magic isn't the only danger in the world, and when a threat comes knocking at their door, Mika will need to decide whether to risk everything to protect a found family she didn't know she was looking for….
Review
Really cute and heartwarming. The witchy, magical aesthetic is a perfect vibe for the romance. Mika and Jamie work so well together as the romantic leads, Jamie's curmudgeonliness (hiding a heart of gold) against Mika's (literal) sparkliness. Each character's tough background provides lots of feels. I thought the end was a bit over the top and resolved too quickly and easily. Overall, though, this book is such a pleasant escape. I read it in one sitting because I didn't want to put it down.
You might like this if you like: The House in the Cerulean Sea by TJ Klune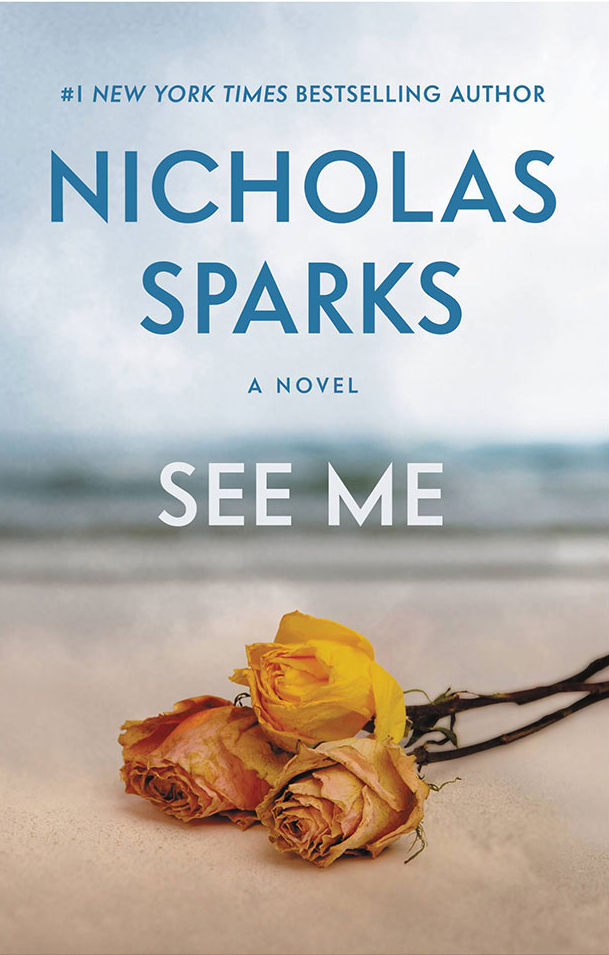 See Me by Nicholas Sparks
Summary
Colin Hancock is giving his second chance his best shot. At twenty-eight, he s focused only on walking a straight line getting his teaching degree, working out at the gym religiously, and avoiding all the places and people that proved so destructive in his earlier life. The last thing he s looking for is a serious relationship. But when Maria Sanchez crosses paths with him on a rainswept night in North Carolina, his plans are upended in a way that will rattle the foundations of his carefully structured life. As for Maria, the hardworking lawyer and daughter of Mexican immigrants, Colin will challenge every notion she s ever had about herself and her future, making her question what truly makes her happy.
Before the couple has a chance to envision what a life together might look like, however, menacing reminders of events in Maria s past begin to surface. And as the threat of violence begins to shadow her every step, she and Colin will be tested in increasingly terrifying ways. Will demons from their past destroy the tentative bonds they have forged, or will their love protect them, even in the darkest hour?
Review
There's a clear, complete genre shift from romance to thriller at almost exactly the 50% mark, the contrast of which I still don't know how to feel about. The romance part was sweet, the characters' backgrounds interesting. Their past selves seemed more complex than the versions in the present time of the story, because they seemed to just take on the stock roles required in a romance/thriller. I'm not sure what the author was trying to say about Colin's attempt to lead a better life but falling off the rails at every opportunity. His and Maria's actions tended to be irrational or annoying. I figured out the endgame of the thriller part pretty early on, though the climax was still exciting to read. So there were parts of this book that definitely worked for me and others that didn't so much.