Last month I joined Tarotathon, Blackathon, and got to my Buzzwordathon and roll100 prompts. Here are the 21 books I read.
Gwen and Art Are Not In Love by Lex Croucher
I received an eARC of this book from the publisher via NetGalley in exchange for an honest review.
In the Lives of Puppets by TJ Klune
I received an eARC of this book from the publisher via NetGalley in exchange for an honest review.
The Nobleman's Guide to Scandal and Shipwrecks by Mackenzi Lee
Tarotathon: 10 of Swords (part of a series and either featuring a battle or historical)
Summary
Adrian Montague has a bright future. The sole heir to his father's estate, he is an up and coming political writer and engaged to an activist who challenges and inspires him. But most young Lords aren't battling the debilitating anxiety Adrian secretly lives with, or the growing fear that it might consume him and all he hopes to accomplish. In the wake of his mother's unexpected death, Adrian is also concerned people will find out that he has the mental illness she struggled with for years.

When a newly found keepsake of hers-a piece of a broken spyglass—comes into Adrian's possession, he's thrust into the past and finds himself face to face with an older brother he never knew he had. Henry "Monty" Montague has been living quietly in London for years, and his sudden appearance sends Adrian on a quest to unravel family secrets that only the spyglass can answer.

In pursuit of answers about the relic, the brothers chart a course to locate their sister Felicity. But as they travel between the pirate courts of Rabat, Portuguese islands, the canals of Amsterdam, and into unknown Artic waters, the Montague siblings are thrown into one final adventure as they face a ghostly legend that threatens their whole family.
Review
This book showcases a stunningly accurate and well-done depiction of anxiety-driven thoughts. It was great to revisit this world and its characters, but it didn't feel as strong as the first two books.
Endymion Spring by Matthew Skelton
Tarotathon: Page of Swords (has a young character and either featuring a battle or historical)
Summary
In the dead of night, a cloaked figure drags a heavy box through snow-covered streets. The chest, covered in images of mythical beasts, can only be opened when the fangs of its serpent's-head clasp taste blood.

Centuries later, in an Oxford library, a boy touches a strange book and feels something pierce his finger. The volume is blank, wordless, but its paper has fine veins running through it and seems to quiver, as if it's alive. Words begin to appear on the page–words no one but the boy can see.

And so unfolds a timeless secret . . . .
Review
I'm not sure who the audience for this book is, because the main characters' ages and the simplicity of the villain and plot indicate middle grade, but the vocabulary used and references to literary and historical figures indicate older readers.
The whole thing just fell flat. A lot of details seem glossed over. The characters were one dimensional. Blake's parents' relationship was super problematic, especially during the "resolution" at the end. Endymion's storyline was interesting, but otherwise I kept waiting for a hook that never came.
The Sumage Solution by G. L. Carriger
Tarotathon: 2 of Wands (has a couple and either featuring magic or a fantasy)
Summary
Max fails at magic, relationships, and life. So he works as a sumage, cleaning up other mages' messes. The job sucks and he's in no mood to cope with redneck biker werewolves. Unfortunately, there's something irresistible about the sexy muscled Beta visiting his office for processing.

Bryan is gay but he's not out. There's a good chance Max might be reason enough to leave the closet, if he can only get the man to go on a date.

Everyone knows werewolves hate mages, but Bryan is determined to prove everyone wrong, even the mage in question.
Review
I adore idiots in love.
Carriger can always be relied on for a feel-good story. This one is full of ups and downs and a lot of heart. The magic is interesting, the romance is smoking hot, and the found family is off-the-charts comforting. Conversations between characters about the serious stuff are breathtakingly meaningful. It's a whole package of a book, and I can't wait to read the rest of the series.
The Omega Objection by G. L. Carriger
Summary
Every night Isaac wonders if the next shifter in his bar will be the werewolf sent to kill him.
The supernatural creatures of San Francisco love to visit Isaac the bartender. They never ask why they're drawn to him or why he has no scent. Until Tank.
Tank is always subservient to his pack and its needs, so when asked to take a side job as a bouncer, he's there. Then he meets Isaac. The man is an enigma – odorless, ridiculously sexy, and terrified.
Can Tank prove to Isaac that sometimes there are monsters worth running toward?
Review
I wish there was a little more plot. The previous book felt fuller somehow, the character arcs more evenly paced. However, the romance and growing found family were heartwarming as usual. If I had to guess, I'd say Carriger has the most fun writing Max. He's just such an interesting mix of immense power and snarky asshole. Her character work in general is wonderful.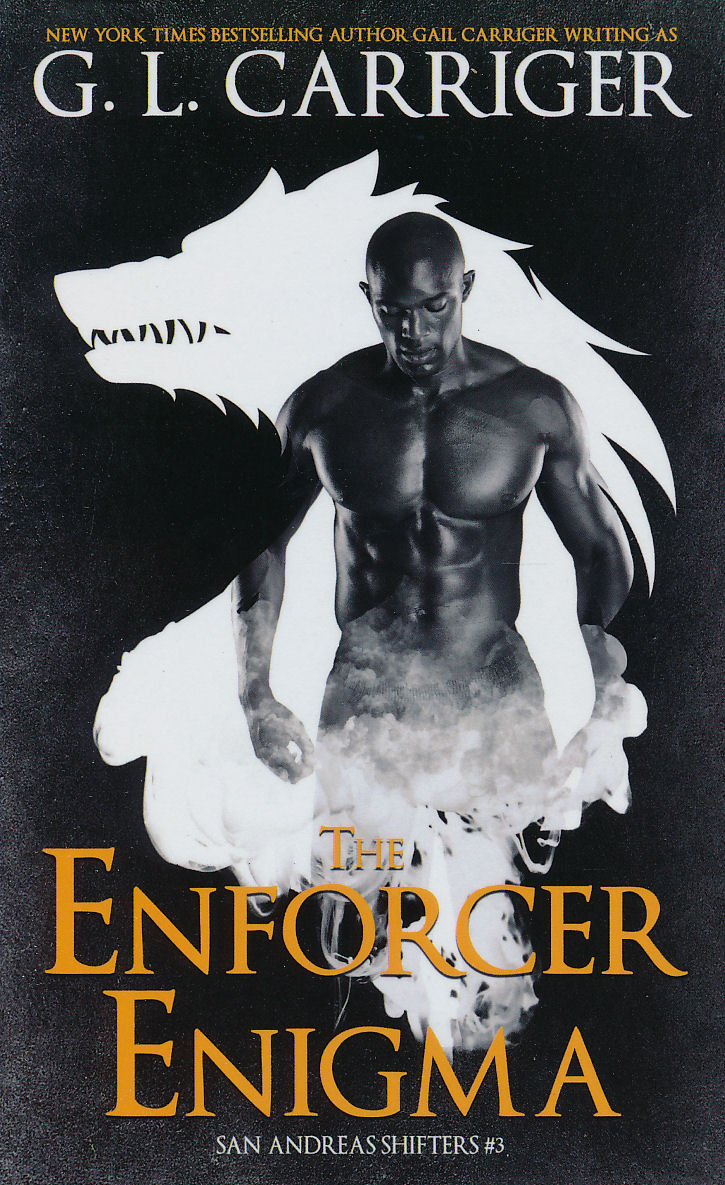 The Enforcer Enigma by G. L. Carriger
Summary
Judd has wandered from pack to pack his whole life, searching for wolves who will accept him for who he is and who he loves. Now he believes that he's finally found the right pack and the right man.

Rejected by his family for being gay and geeky, Colin has never fit in with werewolves, yet now he is one. He doesn't know how to react when Judd starts courting him. He's even more lost when a famous singer, the selkie mob, and the feds also start chasing him.

Can Judd protect Colin and still prove his love? Can Colin figure out why enemy shifters are invading his favorite cafe? And what's with all the gold sparkle?
Review
Judd and Colin are cute together, and Colin's arc to becoming more confident is nice, along with the whole message about not underestimating seemingly weak people. However, I never really connected to Judd as a character or got a feel for who he is as a person. The massive age difference, with Colin being so young and inexperienced, was a bit uncomfortable. It's the side characters who really made it for me. I love the growing pack family.
The Deep by Rivers Solomon
Blackathon: by a trans black diasporic author
Summary
Yetu holds the memories for her people—water-dwelling descendants of pregnant African slave women thrown overboard by slave owners—who live idyllic lives in the deep. Their past, too traumatic to be remembered regularly, is forgotten by everyone, save one—the historian. This demanding role has been bestowed on Yetu.

Yetu remembers for everyone, and the memories, painful and wonderful, traumatic and terrible and miraculous, are destroying her. And so, she flees to the surface, escaping the memories, the expectations, and the responsibilities—and discovers a world her people left behind long ago.

Yetu will learn more than she ever expected to about her own past—and about the future of her people. If they are all to survive, they'll need to reclaim the memories, reclaim their identity—and own who they really are.
Review
Excellent concept and deals with issues of memory, loss, and greed poetically, but it would have been better as a short story with the vast repetitiveness removed.
This Poison Heart by Kalynn Bayron
Blackathon: features impressive architecture or largely in one building
full Summary and Review can be found here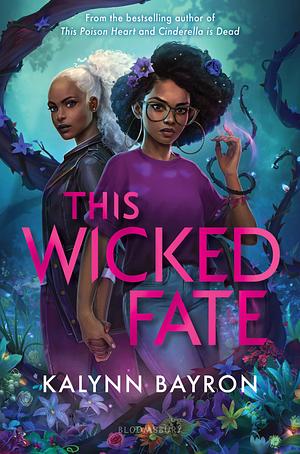 This Wicked Fate by Kalynn Bayron
full Summary and Review can be found here
Red at the Bone by Jacqueline Woodson
Blackathon: features wealthy characters or explores class
Summary
As the book opens in 2001, it is the evening of sixteen-year-old Melody's coming of age ceremony in her grandparents' Brooklyn brownstone. Watched lovingly by her relatives and friends, making her entrance to the music of Prince, she wears a special custom-made dress. But the event is not without poignancy. Sixteen years earlier, that very dress was measured and sewn for a different wearer: Melody's mother, for her own ceremony– a celebration that ultimately never took place.

Unfurling the history of Melody's parents and grandparents to show how they all arrived at this moment, Woodson considers not just their ambitions and successes but also the costs, the tolls they've paid for striving to overcome expectations and escape the pull of history. As it explores sexual desire and identity, ambition, gentrification, education, class and status, and the life-altering facts of parenthood, Red at the Bone most strikingly looks at the ways in which young people must so often make long-lasting decisions about their lives–even before they have begun to figure out who they are and what they want to be.
Review
I adore how Woodson can say so much in so few words. There are tons of themes explored in this book that require chewing on long after the end: class, race, sexuality, teen pregnancy, love, motherhood, religion, education, trauma. It's a beautifully constructed book, but somehow the sum is not greater than its parts for me.
Skin of the Sea by Natasha Bowen
Blackathon: features aquatic themes or water magic
Summary
Simi prayed to the gods, once. Now she serves them as Mami Wata–a mermaid–collecting the souls of those who die at sea and blessing their journeys back home.

But when a living boy is thrown overboard, Simi goes against an ancient decree and does the unthinkable–she saves his life. And punishment awaits those who dare to defy the gods.

To protect the other Mami Wata, Simi must journey to the Supreme Creator to make amends. But all is not as it seems. There's the boy she rescued, who knows more than he should. And something is shadowing Simi, something that would rather see her fail . . .

Danger lurks at every turn, and as Simi draws closer, she must brave vengeful gods, treacherous lands, and legendary creatures. Because if she fails, she risks not only the fate of all Mami Wata, but also the world as she knows it.
Review
DNF. I loved exploring West and Central African mythology in a Little Mermaid retelling, but the narrative was slow and dry for me, the characters one-dimensional.
Orishas, Goddesses, and Voodoo Queens by Lilith Dorsey
Blackathon: spiritual or character with fantastical capabilities
Summary
Throughout Africa and beyond in the diaspora caused by the slave trade, the divine feminine was revered in the forms of goddesses like the ancient Nana Buluku, water spirits like Yemaya, Oshun, and Mami Wata, and the warrior Oya. The power of these goddesses and spirit beings has taken root in the West. New Orleans, for example, is the home of Marie Laveau, who used her magical powers to become the "Voodoo Queen" of New Orleans.

Orishas, Goddesses, and Voodoo Queens shows you how to celebrate and cultivate the traits of these goddesses, drawing upon their strengths to empower your own life. In addition to offering a guided tour of the key goddesses of the African religious traditions, the book offers magical spells, rituals, potions, astrological correspondences, sacred offerings, and much more to help guide you on your own transformational journey.
Review
The book is divided into chapters about specific beings or historical figures in African traditional religions. Each chapter describes some folklore or background of the central figure (though they vary wildly in length), then includes rituals and recipes associated with them. I liked that the author highlighted how contemporary artists are using these figures in their work. The information is interesting for a very introductory level, with further readings listed and glossaries but no in-text citations.
I had expected an author who's been active in the Pagan/religious community for a long time to know that Lilith is not a goddess and that she and smudging are part of closed practices. Apparently those things somehow escaped her for decades, or she doesn't care.
Sweethand by N. G. Peltier
Blackathon: set in Jamaica or on an island
Summary
After a public meltdown over her breakup from her cheating musician boyfriend, Cherisse swore off guys in the music industry, and dating in general for a while, preferring to focus on growing her pastry chef business.

When Cherisse's younger sister reveals she's getting married in a few months, Cherisse hopes that will distract her mother enough to quit harassing her about finding a guy, settling down and having kids. But her mother's matchmaking keeps intensifying.

Cherisse tries to humour her mother, hoping if she feigns interest in the eligible bachelors she keeps tossing her way, she'll be off the hook, but things don't quite go as planned. Turns out for the first time in ages, she and Keiran King, the most annoying man ever, are on the island at the same time. Avoiding him is impossible, especially when Keiran's close friend is the one marrying her sister, and he's the best man to her maid of honour.

Keiran doesn't know what to make of Cherisse now. They've always butted heads. To him she's always been a stuck-up brat who seeks attention, even while he secretly harbored a crush on her. Now with Cherisse's sister marrying one of his good friends he can't escape her as the wedding activities keep throwing them together.

When things turn heated after a rainy night of bedroom fun, they both have to figure out if they can survive the countdown to wedding day, without this turning into a recipe for disaster.
Review
DNF. The characters are so petty, it's hard to believe they're functioning adults. The first couple chapters are just the main characters slamming on each other in such an over-the-top, off-putting way. The audiobook narrator often ran sentences together, emphasized parts of sentences in ways that made it sound unnatural, and didn't differentiate dialogue from narration or various voices from each other very well.
Parable of the Sower by Octavia Butler
Blackathon: centering on a tight-knit group of friends or unlikely allies
Summary
In 2025, with the world descending into madness and anarchy, one woman begins a fateful journey toward a better future.

Lauren Olamina and her family live in one of the only safe neighborhoods remaining on the outskirts of Los Angeles. Behind the walls of their defended enclave, Lauren's father, a preacher, and a handful of other citizens try to salvage what remains of a culture that has been destroyed by drugs, disease, war, and chronic water shortages. While her father tries to lead people on the righteous path, Lauren struggles with hyperempathy, a condition that makes her extraordinarily sensitive to the pain of others.

When fire destroys their compound, Lauren's family is killed and she is forced out into a world that is fraught with danger. With a handful of other refugees, Lauren must make her way north to safety, along the way conceiving a revolutionary idea that may mean salvation for all mankind.
Review
Riveting. Lauren's voice is so strong and distinct. I couldn't stay away from her perseverance and dedication to the Earthseed religion she develops, the hope it promises in a devolving world. That world is just a single terrifying step away from our own, and in some cases not even that far away. Greedy corporations privatizing everything from water to emergency help, charging premiums for substandard (or nonexistent) service, and instituting slavery conditions marketed as protection. Politicians who ignore the issues around them and make promises they never keep. The seemingly incongruous reminders of "civilization" like laws and insurance companies that paint a stark and grimly hilarious contrast to the realities of the characters' lives. The description of science fiction as being just a progression of what the author sees happening already is never more true than it is in this book. I can't wait to see what happens to Lauren and her community in the next book.
Hold Me Closer, Necromancer by Lish McBride
Buzzwordathon: verbs
Summary
Sam leads a pretty normal life. He may not have the most exciting job in the world, but he's doing all right—until a fast food prank brings him to the attention of Douglas, a creepy guy with an intense violent streak.
Turns out Douglas is a necromancer who raises the dead for cash and sees potential in Sam. Then Sam discovers he's a necromancer too, but with strangely latent powers. And his worst nightmare wants to join forces . . . or else.
With only a week to figure things out, Sam needs all the help he can get. Luckily he lives in Seattle, which has nearly as many paranormal types as it does coffee places. But even with newfound friends, will Sam be able to save his skin?
Review
The sarcastic, irreverent humor is great, especially from Sam and Brooke. I liked the characters and the fact that friendship takes front and center over romance. The author added worldbuilding details at the right pace and just enough to intrigue me and make me eager for the sequel to see how it all shakes out. There was a pattern I didn't care for of women becoming emotionally fragile very quickly in conversations where Sam could conveniently provide comfort. Overall, though, this book is a fun darker urban fantasy.
Wolves at Our Door by Jim and Jamie Dutcher
roll100: 67
Summary
For centuries, wolves have haunted the human imagination. It has been accepted as conventional wisdom that they are savage predators, creatures of nightmare. Determined to overcome such misconceptions, Jim and Jamie Dutcher spent six years in a tented camp on the edge of Idaho's wilderness, living with and filming a pack of wolves. Now, in this lyrical memoir, the Dutchers share their experience of life among these intelligent and elusive animals.

By socializing with the pack from the time they were pups, the Dutchers were able to gain the wolves' trust and observe their behavior in a way that few people ever have. What they witnessed was remarkable: a complex nature oriented toward family life and strong social bonds.
Wolves at Our Door is much more than a behind-the-scenes look at the making of the Dutchers' Emmy Award-winning Discovery Channel documentary. It is the story of two people brought together by their devotion to wildlife and held together by their belief in each other. It is about their struggle to keep the project alive amid marauding mountain lions, forest fires, subzero temperatures—and the never-ending storm of controversy that surrounds the wolf.
Review
A soulfully written memoir, both heartwarming and heartbreaking. It's an easy, fast read, the details into what it took to care for and gain the trust of wolves fascinating. The Dutchers realized their vision of getting readers to understand the social complexities within wolf packs, making the unhappy ending resulting from egotism and willful ignorance so appalling. Despite the ending, or perhaps more accurately because of it, the experience of the rest of the book is important for developing a more respectful relationship with wolves and nature in general.
Smoke by Dan Vyleta
roll100: 26
Summary
In an alternate Victorian England those who are wicked are marked by the smoke that pours out of their bodies. The aristocracy are clean, proof of their virtue and right to rule, while the lower classes are drenched in sin and soot.

Thomas Argyle is the only son of a wayward aristocrat. Charlie Cooper is his best friend. When Thomas finds himself under the boot heel of a sadistic headboy in the treacherous halls of their elite boarding school, he and Charlie begin to question the rules of their society. Then the boys meet Livia, the daughter of a wealthy and powerful family. She leads them to a secret laboratory where they learn that smoke may not be as it seems, and together they set out to uncover the truth about their world.
Review
DNF. 30% in and almost nothing has happened. We learn a couple unsurprising things about the smoke, which doesn't seem to be developed consistently anyway. The book meanders through pointless scenes and point of view changes, creating a bloated product with uninteresting characters.
God is Disappointed in You by Mark Russell
roll100: 83
Summary
God Is Disappointed in You is for people who would like to read the Bible… if it would just cut to the chase. Stripped of its arcane language and its interminable passages of poetry, genealogy, and law, every book of the Bible is condensed down to its core message, in no more than a few pages each. Written by Mark Russell with cartoons by New Yorker cartoonist Shannon Wheeler, God Is Disappointed in You is a frequently hilarious, often shocking, but always accurate retelling of the Bible, including the parts selectively left out by Sunday School teachers and church sermons. Irreverent yet faithful, this book is a must-read for anyone who wants to see past the fog of religious agendas and cultural debates to discover what the Bible really says.
Review
A humorous retelling/summary of the Bible is probably the only way I'll get through it, because wow is it full of some messed-up stories and inconsistencies/hypocrisies. This book is done well.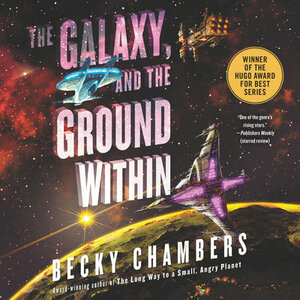 The Galaxy, and the Ground Within by Becky Chambers
Summary
With no water, no air, and no native life, the planet Gora is unremarkable. The only thing it has going for it is a chance proximity to more popular worlds, making it a decent stopover for ships traveling between the wormholes that keep the Galactic Commons connected. If deep space is a highway, Gora is just your average truck stop.
At the Five-Hop One-Stop, long-haul spacers can stretch their legs (if they have legs, that is), and get fuel, transit permits, and assorted supplies. The Five-Hop is run by an enterprising alien and her sometimes helpful child, who work hard to provide a little piece of home to everyone passing through.
When a freak technological failure halts all traffic to and from Gora, three strangers—all different species with different aims—are thrown together at the Five-Hop. Grounded, with nothing to do but wait, the trio—an exiled artist with an appointment to keep, a cargo runner at a personal crossroads, and a mysterious individual doing her best to help those on the fringes—are compelled to confront where they've been, where they might go, and what they are, or could be, to each other.
Review
As with the previous book in the series (Record of a Spaceborn Few), there are some interesting relationships and issues touched on, but ultimately the book feels more like the author's worldbuilding notes than anything else.
The Earth Path by Starhawk
roll100: 96 (January)