Top Ten Tuesday is currently hosted by Jana at That Artsy Reader Girl. This week's topic is Genre Freebie, so I chose to do my top ten retellings.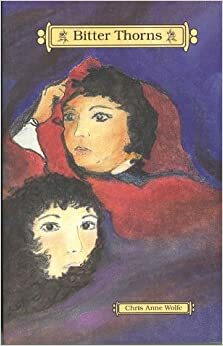 Bitter Thorns by Chris Anne Wolfe
retelling of: Beauty and the Beast
Summary
A lesbian retelling of Beauty and the Beast.
Review
YES. A retelling done in such a way that despite knowing exactly what would happen, I was 100% INVESTED in HOW it would happen in this version. Didn't want to put the book down, and my heart genuinely sped at parts.
The world felt full and interesting and wonderfully magical. The characters learned things and had arcs, both individually and together. The plot and romance were PERFECTLY paced. The message of queer love not being demonic and the damage done when growing up thinking so was just…so well done, powerful, emotional.
The text needed proofreading, and there were a lot of inanimate objects doing things (e.g. "the gloved hand waved"), but honestly everything else about the book was so good that I simply didn't care.
Circe by Madeline Miller
retelling of: Greek myth
Summary
In the house of Helios, god of the sun and mightiest of the Titans, a daughter is born. But Circe is a strange child—not obviously powerful like her father, nor viciously alluring like her mother. Turning to the world of mortals for companionship, she discovers that she does possess power—the power of witchcraft, which can transform rivals into monsters and menace the gods themselves.
Threatened, Zeus banishes her to a deserted island, where she hones her occult craft, tames wild beasts, and crosses paths with many of the most famous figures in all of mythology, including the Minotaur; Daedalus and his doomed son, Icarus; the murderous Medea; and, of course, wily Odysseus.
But there is danger, too, for a woman who stands alone, and Circe unwittingly draws the wrath of both men and gods, ultimately finding herself pitted against one of the most terrifying and vengeful of the Olympians. To protect what she loves most, Circe must summon all her strength and choose, once and for all, whether she belongs with the gods she is born from or the mortals she has come to love.
Review
This book is the perfect candidate for close examination in an English class. The themes are woven in so intricately I really didn't even start to see some until I revisited my favorite quotes after I finished the whole book. I started to realize how magnificently motifs like stones, seeds/growth, and scars pervade not just Circe's character arc but the other characters and themes as well. In fact I was going to give it 4 stars before it hit me how complex it is.
Miller takes the Greek myths and brilliantly fills in all the gaps to produce a lush world and multidimensional characters. The wordsmithing itself is drop-dead gorgeous. I actually feel the necessity to read it again and again, because one readthrough is not enough to get everything out of it that Miller put in.
The audio narrator, Perdita Weeks, could not have been more perfectly chosen or done a better job.
Briar Rose by Jane Yolen
retelling of: Sleeping Beauty
Jane Yolen's classic novel of memory, stories, and the Holocaust is a powerful retelling of the fairy tale Sleeping Beauty that is heartbreaking and heartwarming.
Ever since she was a child, Rebecca has been enchanted by her grandmother Gemma's stories about Briar Rose. But a promise Rebecca makes to her dying grandmother will lead her on a remarkable journey to uncover the truth of Gemma's astonishing claim: I am Briar Rose. A journey that will lead her to unspeakable brutality and horror. But also to redemption and hope.
Review
"His voice had a wonderful flow to it, and even the awful things he had to say were beautifully said." This book in a nutshell.
It blew me away. You cannot "enjoy" a book about the Holocaust; that's not the right word, not least because even though the characters are fictional, the horror of their stories is not. However, the juxtaposition of those stories with the fairy tale of Sleeping Beauty creates a heart-rending, gut-punching, thought-provoking, powerfully meaningful and relatable MASTERPIECE. I often had to put the book down, breathe, and work through what I just read. I had to walk away between scenes in the last half of the book because it was so difficult, so intense to experience. The way Jane Yolen uses the tale of Sleeping Beauty as a way for Gemma to reconcile her past, the role the tale plays in the characters' lives, how different characters hear and interpret it differently, how their expectations for it differ and what those reactions mean in relation to Gemma's past…wow. Just wow. This book is truly in a league of its own.
Spinning Silver by Naomi Novik
retelling of: Rumpelstiltskin
Summary
Miryem is the daughter and granddaughter of moneylenders, but her father's too kind-hearted to collect his debts. They face poverty, until Miryem hardens her own heart and takes up his work in their village. Her success creates rumours she can turn silver into gold, which attract the fairy king of winter himself. He sets her an impossible challenge—and if she fails, she'll die. Yet if she triumphs, it may mean a fate worse than death. And in her desperate efforts to succeed, Miryem unwittingly spins a web that draws in the unhappy daughter of a lord.

Irina's father schemes to wed her to the tsar—he will pay any price to achieve this goal. However, the dashing tsar is not what he seems. And the secret he hides threatens to consume the lands of mortals and winter alike. Torn between deadly choices, Miryem and Irina embark on a quest that will take them to the limits of sacrifice, power and love.
Review
My favorite part of Novik's Uprooted was the validity and empowerment given to Agnieszka's magic style, and how it made the Dragon's magic even stronger. Novik took that theme and multiplied it by three incredible characters in Spinning Silver. All three women kicked ass, not in a literal sword-fighting way, but by knowing their strengths, taking confidence from that, and using it to navigate the obstacles in their way, even when—especially when—others didn't see or didn't value those strengths. Having Jewish characters on the page, especially in fantasy, means so much to me, and in a respectful way that doesn't ignore Jewish hardships but doesn't make them, like so many other books, the go-to source of conflict. The only very minor criticisms I have are that some of the POVs seemed unnecessary, and I would have liked a bit more of Irina's ending fleshed out, but neither of these detracted from the overall experience of the story.
Ella Enchanted by Gail Carson Levine
retelling of: Cinderella
Summary
That fool of a fairy Lucinda did not intend to lay a curse on me. She meant to bestow a gift. When I cried inconsolably through my first hour of life, my tears were her inspiration. Shaking her head sympathetically at Mother, the fairy touched my nose. "My gift is obedience. Ella will always be obedient. Now stop crying, child." I stopped.
So begins this richly entertaining story of Ella of Frell, who wants nothing more than to be free of Lucinda's gift and feel that she belongs to herself. For how can she truly belong to herself if she knows that at any time, anyone can order her to hop on one foot, cut off her hand, or betray her kingdom–and she'll have to obey?
Against a bold tapestry of princes, ogres, giants, wicked stepsisters, and fairy godmothers, Ella's spirited account of her quest to break the curse is a funny, poignant, and enchanting tale about an unforgettable heroine who is determined to be herself.
Review
A charming, empowering, fun fantasy retelling.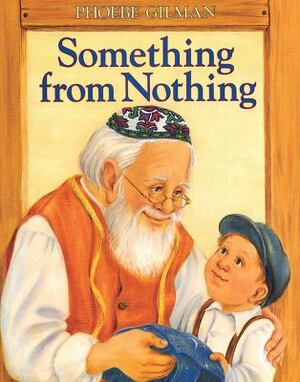 Something from Nothing by Phoebe Gilman
retelling of: Jewish folktale
Summary
The blanket Joseph's grandfather made him is transformed into many things as the years go by: a jacket, a vest, a tie, a handkerchief–and finally a button. Gilman's modern adaptation and lively illustrations turn this favorite Jewish tale into a contemporary classic.
Review
My memories of reading this story as a kid are of how enraptured I was with the illustrations, particularly of the shiny blue blanket material. That bedazzlement has not faded.
This book has SO MUCH going on. The main story, yes, but also the exquisite illustrations of the shtetl that show the stories of its inhabitants; the understated character actions like Joseph's sister trying to comfort him with her own doll; the parallel story of the mouse family living under the house; the message about not letting materials go to waste (both in the main house and in the mouse house). There are relatively few words, but the incredible illustrations inspire several minutes of perusal before turning the page.
Also there's an adorable panel of little mice children attending Hebrew school, and if that at least doesn't get you to pick up this book, I don't know what else to say.
Jane by Robin Maxwell
retelling of: Tarzan
Summary
The only female student in Cambridge University's medical program, Jane Porter is far more comfortable in a lab coat dissecting corpses than she is in a corset and gown sipping afternoon tea. A budding paleoanthropologist, Jane dreams of traveling the globe in search of fossils that will prove the evolutionary theories of her scientific hero, Charles Darwin.
When dashing American explorer Ral Conrath invites Jane and her father to join an expedition deep into West Africa, she can hardly believe her luck. Africa is every bit as exotic and fascinating as she has always imagined, but Jane quickly learns that the lush jungle is full of secrets—and so is Ral Conrath. When danger strikes, Jane finds her hero, the key to humanity's past, and an all-consuming love in one extraordinary man: Tarzan of the Apes.

Jane is the first version of the Tarzan story written by a woman and authorized by the Edgar Rice Burroughs estate. Its publication marks the centennial of the original Tarzan of the Apes.
Review
Everything an adventure should be. I love Jane's character: her ambition, her determination, her intelligence. Seeing her wild journey throughout the trials she faces and how she works through and triumphs over them was…so freeing for me as a reader, actually. It was immensely satisfying.
I cannot praise enough the description and complexity in this book. There are many character arcs and plotlines that converge and move each other along. The paradisaical "Eden" is portrayed so well that I felt like I was there and getting the same awed inspiration that Jane does. I got completely swept up in some of the scenes, like the fire dancing. So powerful, so enticing.
I had some minor quibbles with some of the story arc framing (e.g. a flashback from Tarzan's perspective somehow delving into another character's thoughts); the "I'm not like the other girls and therefore better" aspect Jane takes on (though she does work through this slightly); and a couple instances of sex happening after the characters are angry. However, none of these things last long, happen often, or detract from the excellent aspects of this story.
Note that I have not read the original Tarzan stories so I cannot make any comparisons, but this retelling from Jane's perspective is brilliant.
Pygmalion by George Bernard Shaw
retelling of: Greek myth of Pygmalion and Galatea
Summary
One of George Bernard Shaw's best-known plays, Pygmalion was a rousing success on the London and New York stages, an entertaining motion picture and a great hit with its musical version, My Fair Lady. An updated and considerably revised version of the ancient Greek legend of Pygmalion and Galatea, the 20th-century story pokes fun at the antiquated British class system.

In Shaw's clever adaptation, Professor Henry Higgins, a linguistic expert, takes on a bet that he can transform an awkward cockney flower seller into a refined young lady simply by polishing her manners and changing the way she speaks. In the process of convincing society that his creation is a mysterious royal figure, the Professor also falls in love with his elegant handiwork.
Review
I love the movie/musical version, and the play it's based on didn't disappoint. It's funny, thought-provoking, and balances humor with deeper meaningful moments wonderfully.
The Red Tent by Anita Diamant
retelling of: Biblical story
Summary
Her name is Dinah. In the Bible her fate is merely hinted at in a brief and violent detour within the verses of the Book of Genesis that recount the life of Jacob and his infamous dozen sons. "The Red Tent" is an extraordinary and engrossing tale of ancient womanhood and family honour. Told in Dinah's voice, it opens with the story of her mothers – the four wives of Jacob – each of whom embodies unique feminine traits, and concludes with Dinah's own startling and unforgettable story of betrayal, grief and love. Deeply affecting and intimate, "The Red Tent" combines outstandingly rich storytelling with an original insight into women's society in a fascinating period of early history and such is its warmth and candour, it is guaranteed to win the hearts and minds of women across the world.
Review
It is a biblical story following Dinah from the Book of Genesis. It is a feminist retelling of her story and that of her mothers, the four wives of Jacob.
The only familiarity I had with this era of the Bible was Joseph and the Amazing Technicolor Dreamcoat. Even though it's not a Christmas story, for some reason my family and I, when I was growing up, always went to see a stage performance of Joseph and the Amazing Technicolor Dreamcoat, which was always put on in December where we lived, so I always associated it with Christmas.
But what I didn't know until I read this book and read more about this book is that Joseph had a sister. In the play and in the movie version with Donny Osmond, Joseph only has brothers. But apparently in the Bible he has a sister, who is completely ignored in all versions of the musical that I'm aware of, which is especially infuriating because it's a crime that the brothers do to Dinah by murdering her husband that causes them to be cursed. So it was a little heart-wrenching to know that a story I grew up loving and seeing every year completely cut out both the sister and the multiple wives of Jacob.
But it was nice to have them focused on in this book, and the book was great.
Winter by Marissa Meyer
retelling of: Snow White
Summary
Princess Winter is admired by the Lunar people for her grace and kindness, and despite the scars that mar her face, her beauty is said to be even more breathtaking than that of her stepmother, Queen Levana.
Winter despises her stepmother, and knows Levana won't approve of her feelings for her childhood friend–the handsome palace guard, Jacin. But Winter isn't as weak as Levana believes her to be and she's been undermining her stepmother's wishes for years. Together with the cyborg mechanic, Cinder, and her allies, Winter might even have the power to launch a revolution and win a war that's been raging for far too long.
Can Cinder, Scarlet, Cress, and Winter defeat Levana and find their happily ever afters? Fans will not want to miss this thrilling conclusion to Marissa Meyer's national bestelling Lunar Chronicles series.
Review
A wonderful conclusion to the series.