I read 10 books last month, including my Buzzwordathon and roll100 prompts. Here are my reviews for all of them.
Record of a Spaceborn Few by Becky Chambers
Summary
Hundreds of years ago, the last humans left Earth. After centuries wandering empty space, humanity was welcomed – mostly – by the species that govern the Milky Way, and their generational journey came to an end.
But this is old history. Today, the Exodus Fleet is a living relic, a place many are from but few outsiders have seen. When a disaster rocks this already fragile community, those Exodans who have not yet left for alien cities struggle to find their way in an uncertain future. Among them are a mother, a young apprentice, an alien academic, a caretaker for the dead, a man searching for a place to belong, and an archivist, who ensures no one's story is forgotten. Each has their own voice, but all seek answers to inescapable questions:
Why remain among the stars when there are habitable worlds within reach? And what is the purpose of a ship that has reached its destination?
Review
Great if you want a meandering stroll through various themes, as there's almost no plot to speak of. The thematic exploration is done well. Feels more like the author's worldbuilding notes than a book in its own right.
The Druidry Handbook by John Michael Greer
Summary
Druidry offers people a path of harmony through reconnection with the green Earth. The Druidry Handbook is the first hands-on manual of traditional British druid practice that explores the Sun Path of seasonal celebration, the Moon Path of meditation, and the Earth Path of living in harmony with nature as tools for crafting an Earth-honoring life here and now. From ritual and meditation to nature awareness and ecological action, John Michael Greer opens the door to a spirituality rooted in the living Earth.
Featuring a mix of philosophy, rituals, spiritual practice, and lifestyle issues, The Druidry Handbook is an essential guide for those seriously interested in practicing a traditional form of druidry. It offers equal value to eclectics and solitary practitioners eager to incorporate more Earth-based spirituality into their own belief system.
Review
An informative, balanced introduction to revival Druidry, though the author speaks about current issues he's obviously not well versed in.
The Mediterranean Diet for Every Day by Telamon Press
Summary
The Mediterranean Diet for Every Day will guide you through the first month of a successful Mediterranean Diet, making it easy to improve your heart health, reduce your risk of cardiovascular disease and diabetes, and create a path to sensible weight loss. With smart guidelines and mouthwatering recipes, The Mediterranean Diet for Every Day will make your transition to the Mediterranean Diet simple and painless.
The recipes are fine, but the weekly plans call for a new dish for every single meal and ridiculously long shopping lists. I don't know who has that time and money but it certainly isn't me.
Eat What You Love: Restaurant Favorites by Marlene Koch
Summary
Who doesn't love the creamy, cheesy, gooey, sweet, and fried foods that restaurants dish up? Now you can enjoy them all guilt-free In Eat What You Love: Restaurant Favorites. "Magician in the kitchen" Marlene Koch works her magic yet again. Imagine creamy Alfredo pasta, cheesy queso dip, and fried chicken 'n waffles, along with Asian and Steakhouse favorites, Starbucks-style drinks, and more — with ALL the crave-worthy taste — and a fraction of sky-high sugar, fat, calories, carbs and sodium.
Review
This cookbook has tons of recipes, all of which seem simple and much healthier than their restaurant counterparts without sacrificing flavor. I love everything in this book from the variety of recipes to the layout and pictures to the tidbits scattered throughout for recipe variations, substitution options, and generally making cooking easier. There's something in here for everyone.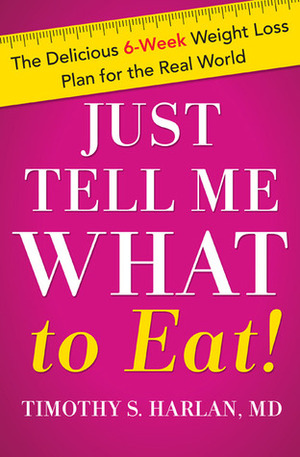 Just Tell Me What to Eat by Timothy S. Harlan
Summary
Dr. Timothy Harlan has counseled thousands of overweight patients searching for weight-loss answers. He noticed that patients were usually told what they could not eat, rather than all the wonderful foods they could eat. Now, physician-chef Harlan provides a solution: an exact prescription for what to eat, how to cook it, when to eat it, and, best of all, why eating great food is the best health decision you will make.Just Tell Me What to Eat! is a medically based weight-loss plan for the real world, for anyone tired of dubious fad diets, restricted meals, and unappetizing strategies. It emphasizes a Mediterranean diet with high-quality calories and home cooking whenever possible. Dr. Harlan offers a "food mantra" for each day, paired with a menu and easy recipes. By the time you incorporate all the lessons in your diet, you will have naturally slimmed down and changed your eating habits for the better.
Review
Bloated, repetitive, and disjointed, making everything seem more complicated and inaccessible than it should be.
Johannes Cabal the Necromancer by Jonathan L. Howard
(roll100 prompt 44)
full Summary and Review can be found here
Libraries That Build Business edited by Megan Janicki
full Summary and Review can be found here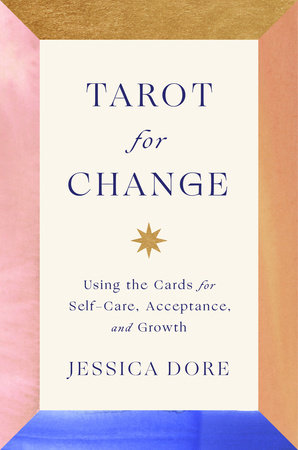 Tarot for Change by Jessica Dore
Summary
Though tarot is often thought of as a tool for divination and fortune-telling, it also has deep roots in spirituality and psychology. For those who know how to see and listen, the cards hold the potential to help us better navigate the full spectrum of the human experience.

In Tarot for Change, Jessica Dore divulges years of hard-won secrets about how to work with tarot to better understand ourselves and live in alignment with what's precious. Dore shows readers how to choose a deck, interpret images, and build a relationship with the cards, while also demonstrating how the mythic imagery of tarot supports modern therapeutic concepts like mindfulness, acceptance, and compassion. Her reflections on each of the seventy-eight cards are a vibrant tapestry that weaves together ideas from psychology, behavioral science, spirituality, and old stories, breathing new language into ancient wisdoms about what it means to be human.

This is as much a book for those who are new to tarot as it is for those who have worked with the cards for years. And it's a book for anyone interested in exploring what it means to experience joy, heartbreak, wonder, stagnation, grief, loneliness, love. A book of secrets, symbols, and stories, Tarot for Change is a charm for remembering that our problems are not new, we are never alone, and whether we know it or not, we are always in a process of change.
Review
Dore, a social worker with therapy training, reflects on each of the tarot cards through a particular angle, some of which are close to the traditional card meanings, some of which are less common but still related. Her unique lens and psychological explanations, while sometimes hyper-focused on a narrow topic, make the text feel very accessible. I found her analyses incredibly useful for self-reflection and engagement with tarot on a deeper level. This book could be used as a source of journaling topics even separate from tarot.
Lakota Woman by Mary Crow Dog
(roll100 prompt 84)
Summary
Mary Brave Bird grew up fatherless in a one-room cabin, without running water or electricity, on the Rosebud Indian Reservation in South Dakota. Rebelling against the aimless drinking, punishing missionary school, narrow strictures for women, and violence and hopeless of reservation life, she joined the new movement of tribal pride sweeping Native American communities in the sixties and seventies. Mary eventually married Leonard Crow Dog, the American Indian Movement's chief medicine man, who revived the sacred but outlawed Ghost Dance.

Originally published in 1990, Lakota Woman was a national best seller and winner of the American Book Award. It is a unique document, unparalleled in American Indian literature, a story of death, of determination against all odds, of the cruelties perpetuated against American Indians, and of the Native American struggle for rights. Working with Richard Erdoes, one of the twentieth century's leading writers on Native American affairs, Brave Bird recounts her difficult upbringing and the path of her fascinating life.
Review
This is not an easy book. It depicts the grim reality of living in the United States as a Native American woman: the racism, police brutality, sexual assault and rape, murder, kidnapping, cultural annihilation, dehumanization, and injustice at every level possible. The author's voice shines through with so many emotions and self-reflections. These are the historical and current issues that can't be brushed under a rug and can't continue to be unrepaired.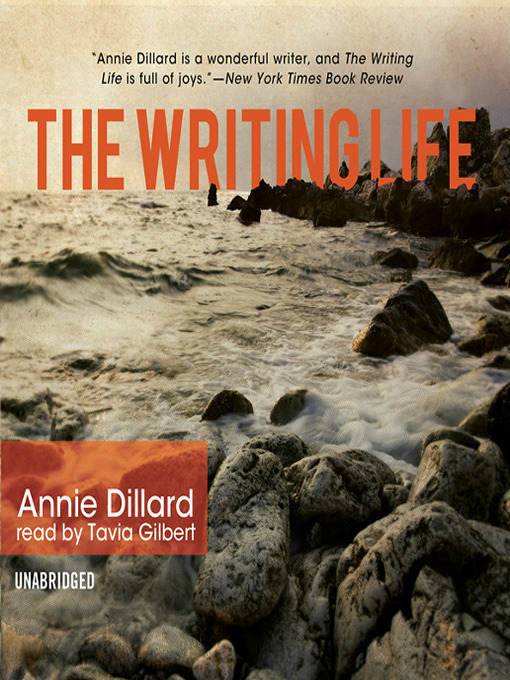 The Writing Life by Annie Dillard
(Buzzwordathon January prompt: "life" and "death")
Summary
In these short essays, Annie Dillard illuminates the dedication, absurdity, and daring that characterize the existence of a writer. A moving account of Dillard's own experiences while writing her works, The Writing Life offers deep insight into one of the most mysterious professions.
Review
A beautifully written, often funny, always poignant book. The first part is a collection of metaphors for what writing is like, and the rest adds memoir components. Dillard has a wonderful way with words.