Buzzwordathon is a yearly challenge created by BooksandLala on Youtube. Each month has a word or word theme, and you choose a book with a related word in the title to read. Below are the books I plan to read for each prompt this year.
January: "life" and "death"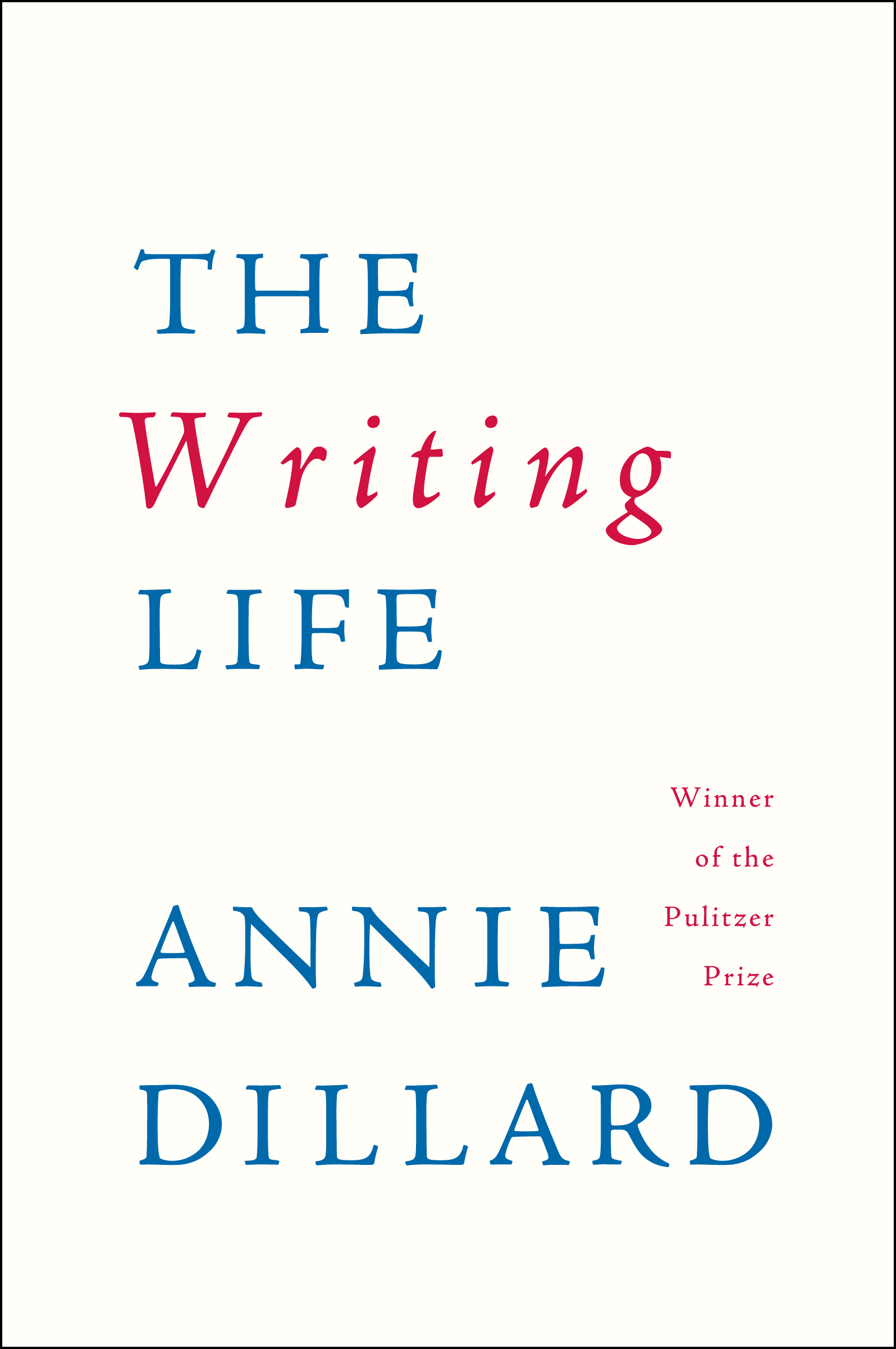 The Writing Life by Annie Dillard
The author of the Pulitzer Prize-winning Pilgrim at Tinker Creek illuminates what the writing process has been like for her.
February: verbs
Hold Me Closer, Necromancer by Lish McBride
Sam leads a pretty normal life. He may not have the most exciting job in the world, but he's doing all right—until a fast food prank brings him to the attention of Douglas, a creepy guy with an intense violent streak.
Turns out Douglas is a necromancer who raises the dead for cash and sees potential in Sam. Then Sam discovers he's a necromancer too, but with strangely latent powers. And his worst nightmare wants to join forces . . . or else.
With only a week to figure things out, Sam needs all the help he can get. Luckily he lives in Seattle, which has nearly as many paranormal types as it does coffee places. But even with newfound friends, will Sam be able to save his skin?
March: "secret"
The Very Secret Society of Irregular Witches by Sangu Mandanna
Summary
As one of the few witches in Britain, Mika Moon knows she has to hide her magic, keep her head down, and stay away from other witches so their powers don't mingle and draw attention. And as an orphan who lost her parents at a young age and was raised by strangers, she's used to being alone and she follows the rules…with one exception: an online account, where she posts videos "pretending" to be a witch. She thinks no one will take it seriously.
But someone does. An unexpected message arrives, begging her to travel to the remote and mysterious Nowhere House to teach three young witches how to control their magic. It breaks all of the rules, but Mika goes anyway, and is immediately tangled up in the lives and secrets of not only her three charges, but also an absent archaeologist, a retired actor, two long-suffering caretakers, and…Jamie. The handsome and prickly librarian of Nowhere House would do anything to protect the children, and as far as he's concerned, a stranger like Mika is a threat. An irritatingly appealing threat. 
As Mika begins to find her place at Nowhere House, the thought of belonging somewhere begins to feel like a real possibility. But magic isn't the only danger in the world, and when a threat comes knocking at their door, Mika will need to decide whether to risk everything to protect a found family she didn't know she was looking for….
April: emotions
Creative Acts for Curious People by Sarah Stein Greenberg
In an era of ambiguous, messy problems–as well as extraordinary opportunities for positive change–it's vital to have both an inquisitive mind and the ability to act with intention. Creative Acts for Curious People is filled with ways to build those skills with resilience, care, and confidence.
At Stanford University's world-renowned Hasso Plattner Institute of Design, aka "the d.school," students and faculty, experts and seekers bring together diverse perspectives to tackle ambitious projects; this book contains the experiences designed to help them do it. A provocative and highly visual companion, it's a definitive resource for people who aim to draw on their curiosity and creativity in the face of uncertainty. Teeming with ideas about discovery, learning, and leading the way through unknown creative territory, Creative Acts for Curious People includes memorable stories and more than eighty innovative exercises.
May: flavors
The Sweetness at the Bottom of the Pie by Alan Bradley
It is the summer of 1950–and at the once-grand mansion of Buckshaw, young Flavia de Luce, an aspiring chemist with a passion for poison, is intrigued by a series of inexplicable events: A dead bird is found on the doorstep, a postage stamp bizarrely pinned to its beak. Then, hours later, Flavia finds a man lying in the cucumber patch and watches him as he takes his dying breath.
For Flavia, who is both appalled and delighted, life begins in earnest when murder comes to Buckshaw. "I wish I could say I was afraid, but I wasn't. Quite the contrary. This was by far the most interesting thing that had ever happened to me in my entire life."
June: "other"
The Girl from the Other Side: Siúil, a Rún Vol. 1 by Nagabe
In a world split between the Inside and the Outside, those living in both realms are told never to cross over to the other side, lest they be cursed. A young girl named Shiva lives on the other side, in a vacant village with a demonic guardian known only as "Teacher." Although the two are forbidden to touch, they seem to share a bond that transcends their disparate appearances. But when Shiva leaves Teacher's care to seek out her grandmother, the secret behind her mysterious living arrangement comes to light.
July: weather words
The Shadow of the Wind by Carlos Ruiz Zafón
Barcelona, 1945: A city slowly heals in the aftermath of the Spanish Civil War, and Daniel, an antiquarian book dealer's son who mourns the loss of his mother, finds solace in a mysterious book entitled The Shadow of the Wind, by one Julian Carax. But when he sets out to find the author's other works, he makes a shocking discovery: someone has been systematically destroying every copy of every book Carax has written. In fact, Daniel may have the last of Carax's books in existence. Soon Daniel's seemingly innocent quest opens a door into one of Barcelona's darkest secrets–an epic story of murder, madness, and doomed love.
August: body parts
The Vagina Monologues by Eve Ensler
It's been more than twenty years since Eve Ensler's international sensation The Vagina Monologues gave birth to V-Day, the radical, global grassroots movement to end violence against women and girls. This special edition features six never-before-published monologues, a new foreword by National Book Award winner Jacqueline Woodson, a new introduction by the author, and a new afterword by One Billion Rising director Monique Wilson on the stage phenomenon's global impact. Witty and irreverent, compassionate and wise, this award-winning masterpiece gives voice to real women's deepest fantasies, fears, anger, and pleasure, and calls for a world where all women are safe, equal, free, and alive in their bodies.
September: game words
The Lost Apothecary by Sarah Penner
Hidden in the depths of eighteenth-century London, a secret apothecary shop caters to an unusual kind of clientele. Women across the city whisper of a mysterious figure named Nella who sells well-disguised poisons to use against the oppressive men in their lives. But the apothecary's fate is jeopardized when her newest patron, a precocious twelve-year-old, makes a fatal mistake, sparking a string of consequences that echo through the centuries.
Meanwhile in present-day London, aspiring historian Caroline Parcewell spends her tenth wedding anniversary alone, running from her own demons. When she stumbles upon a clue to the unsolved apothecary murders that haunted London two hundred years ago, her life collides with the apothecary's in a stunning twist of fate–and not everyone will survive.
October: magic words
A Discovery of Witches by Deborah Harkness
Deep in the stacks of Oxford's Bodleian Library, young scholar Diana Bishop unwittingly calls up a bewitched alchemical manuscript in the course of her research. Descended from an old and distinguished line of witches, Diana wants nothing to do with sorcery; so after a furtive glance and a few notes, she banishes the book to the stacks. But her discovery sets a fantastical underworld stirring, and a horde of daemons, witches, and vampires soon descends upon the library. Diana has stumbled upon a coveted treasure lost for centuries-and she is the only creature who can break its spell.
November: "good"
A Good Heretic by Becky Chambers
A novella found in the Infinite Stars: Dark Frontiers anthology.
Like everything I write in the Wayfarers books, this story ties into all the others, but will stand on its own just fine if this is your point of entry to the series. The setting here is the Galactic Commons, an interstellar, interspecies union established for ease of trade and travel. As FTL is illegal, transportation between systems is facilitated through a vast network of constructed wormholes. Though all GC species are represented in the tunneling profession, their work is impossible without the mathematical contributions of the Sianat, a reclusive race who intentionally infect themselves with a virus that enhances specific cognitive abilities (at the cost of shortening their lifespan). Infected Sianat are properly called "Pairs," and think of themselves as plural entities. Their pronoun usage reflects this.
In The Long Way to a Small, Angry Planet, we're introduced to mainstream Sianat culture through Ohan, a Navigator aboard a tunneling ship. However, we receive a glimpse of an alternate Sianat way of life through the character Mas, who we meet briefly late in the book. This is her story.
December: sound related words
The Trumpeter of Krakow by Eric P. Kelly
There was something about the Great Tarnov Crystal…Wise men spoke of it in hushed tones. Others were ready to kill for it. Now a murderous Tartar chief is bent on possessing it. But young Joseph Charnetski was bound by an ancient oath to protect the jewel at all costs. When Joseph and his family seek refuge in medieval Krakow, they are caught up in the plots and intrigues of alchemists, hypnotists, and a dark messenger of evil. Will Joseph be able to protect the crystal, and the city, from the plundering Tartars?