Hello everyone! I read 17 5 star books last year. Because there are a lot, I'm breaking my wrap up into nonfiction and fiction. Today I'm going to share the 11 nonfiction books with you in no particular order. Click here for the video version of this post.
First up is Mox by Jon Moxley, which is a memoir by the wrestler currently in AEW. He was in WWE under the name Dean Ambrose. The book is written as a collection of vignettes that tie into each other. Moxley has a very down-to-earth tone, and he's hilarious. I found myself laughing out loud at the way he described situations and himself as he grew into the wrestler and person he is today. I'm not a wrestling history expert by any means so many of the names he dropped were unfamiliar to me, but that didn't detract from my enjoyment of the book. You don't need to be a wrestling fan to get something from this memoir whose underlying message is to always push yourself to be the best you can be.
Next is Fuck Yeah, Video Games: The Life and Extra Lives of a Professional Nerd by Daniel Hardcastle. Hardcastle is a YouTuber and Twitch streamer who, as you can tell by the title, primarily plays video games. I've been following him for about a decade. His videos never fail to make me laugh and just feel lighter, and his book is no exception. Each chapter focuses on his experience with a different video game, told in a combination of nostalgia and hilarity. The illustrations throughout, done by Hardcastle's wife and business partner, are wonderful. If you like video games and crying with laughter, this book is for you.
Next is the graphic novel memoir Gender Queer by Maia Kobabe, which details the author's journey understanding eir identity and expressing it to others. Kobabe is so good at expressing emself and eir complex inner workings. I hope as many people experiencing similar thoughts as possible read this book to help them articulate their identities and feel seen.
Next are a couple gardening books. The first is Small-Space Container Gardens by Fern Richardson, and the second is Teeny Tiny Gardening by Emma Hardy. Small-Space Container Gardens includes everything from soil and plant types to maximizing space, attracting beneficial insects, privacy options, weather considerations, and co-planting design strategies. Teeny Tiny Gardening is just adorable to look at even if you don't plan to garden, but it's also a perfect starting point for anyone who is intimidated by the idea of gardening because of its easy-to-follow instructions.
Next is At Home with Pictures: Arranging & Displaying Photos, Artwork & Collectibles by Paige Gilchrist. It provides tons of fantastic tips and strategies presented in bite-sized pieces. I've read a lot of interior design books, most of which are generic and useless, so it says something that I gave one 5 stars. 
Next is The Dabbler's Guide to Witchcraft by Fire Lyte, who currently runs podcast Head on Fire under the name Don Martin. This book dives into vital but often neglected witchcraft topics: ethics, purpose, appropriation, discernment, media, culture, self-education, and so on. It includes a fantastic reference list. Lyte's personality shines with humor and feels very down-to-earth. The book is an essential addition to any witchcraft or Pagan bookshelf.
Next is Wanderess: The Unearth Women Guide to Traveling Smart, Safe, and Solo by Nikki Vargas and Elise Fitzsimmons. If you're interested in traveling, this book provides the practical advice and useful resources you need to do so safely and on a budget. It provides websites, tips, tricks, and destination overviews by safety and by what type of traveler you are (for example, a foodie vs. an adventurer), and it does so concisely without feeling like you're missing something.
Next is Magic: A History by archaeologist Chris Gosden. I'll admit this book will not be for everyone; it's very academic, but also fascinating. The author's thesis is that magic, religion, and science are three equal parts of a triple helix, all work together, and all are equally necessary for a healthy world view. He does a superb job of defending that thesis via a survey of worldwide practices throughout history and how magical, religious, and scientific thought co-evolve over time. The book culminates in a strong argument that more magical (meaning participatory) views need to be reincorporated into modern Western scientific and religious viewpoints in order to combat the current ecological disaster. The author does a phenomenal job of reframing magical practices, often seen as silly and unscientific, as legitimate and logical methods of trying to understand the world and humans' place in it.
Next is The Riddle of the Labyrinth by Margalit Fox, which is about how Linear B was decoded but focuses on the lesser known, though pivotal, figure of Alice Kober. It may sound dry, but the author knew what she was doing. She created an incredibly engaging, fascinating story of the players involved in deciphering Linear B. The book explains well key linguistic, archaeological, historical, and cultural principles. I am so glad to have learned of the force-of-will that was Alice Kober, and if you're more interested in biography than general history, you'll still like this book.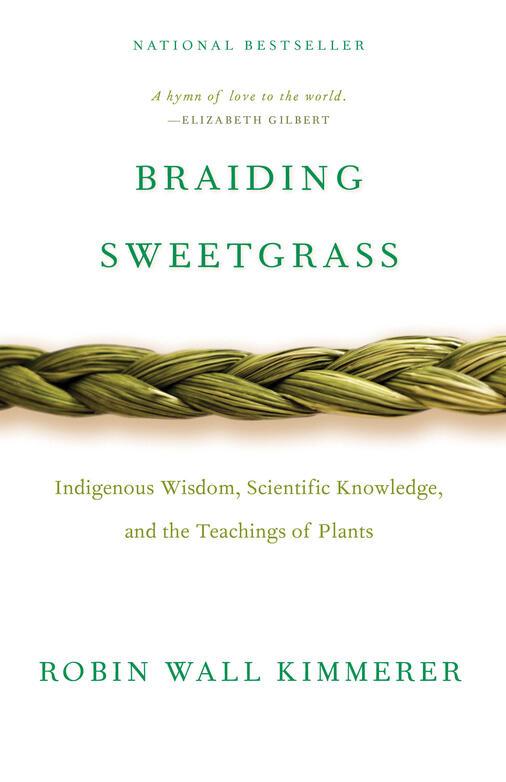 Finally is Braiding Sweetgrass by Robin Wall Kimmerer. There are no words to describe how powerful, beautiful, and tightly crafted this book is. It's a series of essays on nature and human relationships with nature, each other, and themselves, but those words are so inadequate to explain the scope and depth of the book and how impactful it is. It's one I'll be going back to time and again. If you care at all about the environment, this book is for you. I strongly recommend the audio version narrated by the author.
And that wraps up my 5 star nonfiction books of last year! Did you read any of these books? Do you plan to read any of them now? Let me know in the comments. Until next time, have a great day!